Stonehenge and Bath Guided Day Tour from London
Visit Stonehenge and Bath-Tour from London
Stonehenge & Bath
Full-day
Guided
Entrances included: Stonehenge (+ Roman Baths if option selected)
07:30-09:00 - London Pick-ups
We offer a range of pick-up points located in central & west London, all of which are easy to reach by public transport. You can choose to meet us at whichever pick-up point is most convenient for you.
09:00-09:10 - Depart London
After our London pick-ups, we head west to Stonehenge. Your tour guide will entertain you with tales of Stonehenge's prehistoric past – the realities and conspiracies – en route.
10:45-11:00 - Arrive at Stonehenge
Enter the ancient & mystical World Heritage Site of Stonehenge. You'll have approximately 2hrs of free time to explore the stone circle, the visitor centre & the cafe at your own pace. Audio guides are no longer provided at Stonehenge, so we suggest you download their audio app on your mobile phone in advance and bring along your own headphones to listen to the audio through the app on your phone on the day.
13:00 - Depart Stonehenge
We depart Stonehenge & travel to the well-loved city of Bath. Our tour guide will provide an introduction to Bath's distinctive Georgian architecture and its rich history dating back to Roman times.
We are dropped-off right in the centre of the city of Bath. Your tour guide will point out some of the most popular sites & advise when and where to meet back at the coach.
14:15 - Free time in Bath
You might want to visit the Jane Austen Museum, see the Royal Crescent, have a look at Bath Abbey or visit one of the many quirky shops & cafes that Bath has to offer. Now is also the perfect opportunity to grab some lunch.
15:30/16:00 - Roman Baths Entry (if option selected)
This is when your tour guide/driver-guide will meet you and assist you to gain entry to the Roman Baths, if you have pre-booked the option to include the Roman Baths entrance. The Roman Baths is well-preserved bathing complex built around the natural hot springs in the area, once part of the ancient Roman Empire.
We depart Bath & make our way back to London.
20:00-20:30 - Arrive in London
There will be 2-3 drop-offs in central London subject to traffic & other considerations on the day. Our tour guide will advise the specific drop-off locations and will be happy to help with public transport advice if needed. Please note that there can be some traffic travelling back into central London & all itinerary times are approximate & subject to change.
Stonehenge & Bath
Entry to Stonehenge
Return Luxury Coach/Minibus Travel from London
Stonehenge Entry
Free Time in Bath
Tour Guide or Driver-Guide
Stonehenge & Bath With Roman Baths
Entry to Stonehenge & the Roman Baths
Return Luxury Coach/Minibus Travel from London
Stonehenge Entry
Roman Baths Entry & Free Time in Bath
Tour Guide or Driver-Guide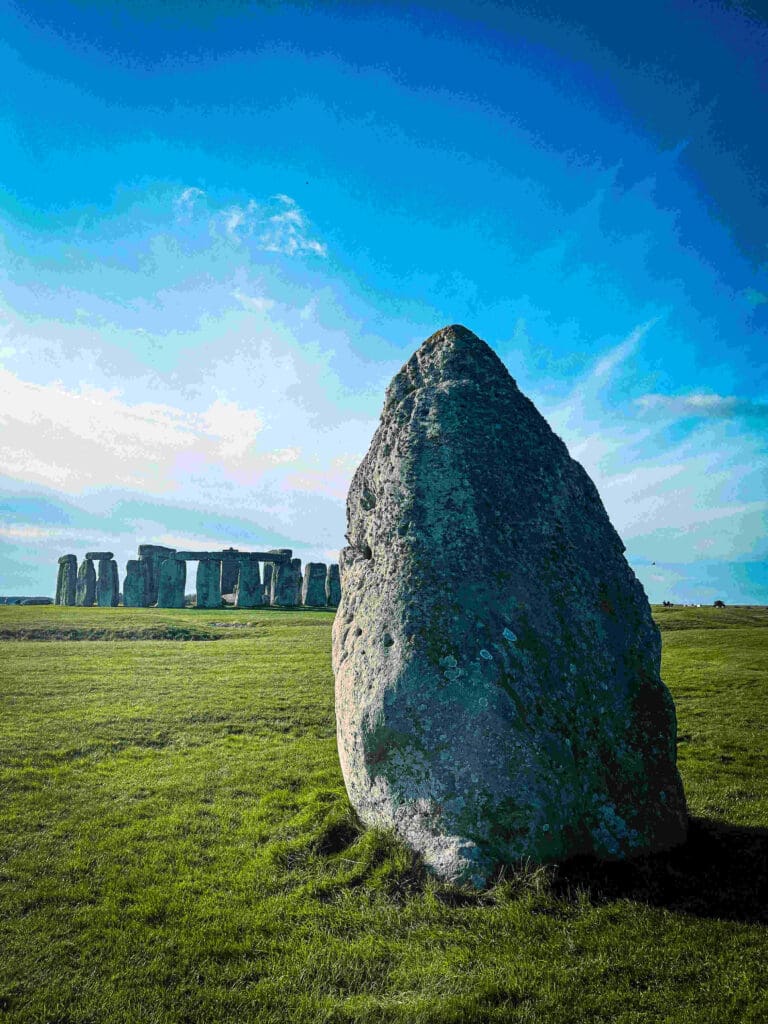 Stonehenge is an ancient circle of towering stones located in England. These stones are so massive that each one stands about as tall as a two-story house. They were placed there thousands of years ago, and the mystery is—we're still not entirely sure why.
Some theories suggest that Stonehenge was a special place for ceremonies or perhaps an ancient way to track time. One fascinating detail is that the stones align perfectly with the sunrise on the summer solstice, the longest day of the year. This has led many to believe it may have served some astronomical purpose.
What's even more intriguing is that these enormous stones weren't sourced locally. They were transported from places far away, including some smaller stones from Wales, which is over 100 miles away! Just think about the effort it would have taken to move these gigantic rocks without the help of modern machinery.
Stonehenge is located in England, specifically in a county called Wiltshire. It's not too far from a city named Salisbury, about 9 miles to be exact. This ancient circle of large stones sits in the middle of a grassy field, and it's one of the most famous historical sites in the world. People from all over come to visit Stonehenge to see its massive stones and wonder about its mysteries.
There is no train to Stonehenge as it's in the middle of a field but you can get there by coach from London which takes around 2 hrs.
Bath is a city in England, and it's situated in a region called Somerset. It's about 97 miles west of London, so it's not too far if you're coming from the capital city. Bath is famous for its ancient Roman-built baths and beautiful Georgian architecture. The city is set along the River Avon and is surrounded by rolling hills. It's a popular spot for tourists who are interested in history, architecture, or simply enjoying a relaxing day at the spa.
Bath is around 21/2 hours by coach from London and around an hour by coach from Stonehenge
As you leave Stonehenge, you'll pass through Salisbury Plain, a large, open area of grassland. This area is often used by the military for training, so don't be surprised if you see barracks or even some military vehicles in the distance.
Next, you might spot a Toll House. These quaint, old buildings were once used to collect fees from travellers using the road. They're a neat glimpse into how travel used to be in the past.
As you continue on, you'll likely pass by some charming English countryside. Rolling hills, farms, and maybe some sheep or cows grazing in the fields will be part of the scenery.
Before reaching Bath, you might also see a mediaeval prison. These old buildings are hard to spot as they look a bit different to what you may expect. Keep your eyes peeled as you'll have to guess which building it is.
Finally, you'll arrive in Bath, a city famous for its ancient Roman baths and stunning architecture. The journey offers a mix of historical sights and natural beauty, making the trip feel like a mini-adventure before you even reach your destination in Bath.
What is there to do in Bath?
Bath is a city in England that's packed with fun and interesting things to do. One of the top spots to visit is the Roman Baths. These are ancient pools where people used to take baths a really long time ago. You can even see a flame that's been burning for centuries!
If you like history, you should also check out Bath Abbey. It's a big, beautiful church with tall towers. You can even climb up to get a great view of the city.
For book lovers, there's the Jane Austen Centre. Jane Austen was a famous writer who lived in Bath for a while. The centre has a museum where you can learn about her life and the times she lived in.
Feeling like a walk? Head over to the Royal Crescent. It's a curved row of houses that are all built in the same style. It's a perfect place for a leisurely stroll and some photos.
If you're into art, the Holburne Museum is a must-see. It has a collection of paintings, sculptures, and other art pieces that are really impressive.
For a relaxing time, you can visit Thermae Bath Spa. It's a modern spa where you can soak in warm, mineral-rich water just like the Romans did. The rooftop pool even gives you a cool view of the city!
And don't forget to walk along the River Avon or visit Pulteney Bridge, which has shops built right into it. It's a great place to do some shopping or just enjoy the view of the river.
So, whether you're into history, love to explore, or just want to relax, Bath has something for everyone to enjoy!
Bath is a city full of interesting places to see and things to do. Here's a list of must-visit spots:
Roman Baths
This is a top attraction where you can see ancient pools and learn how people from long ago enjoyed their spa days.
Bath Abbey
A beautiful, historic church where you can admire the architecture or even climb the tower for a great view of the city.
Jane Austen Centre
Perfect for book lovers, this museum tells you all about the famous writer Jane Austen and her time in Bath.
Royal Crescent
A curved row of houses that look like they're all twins! It's a great place for a walk and some photos.
Holburne Museum
If you're into art, you'll love this museum. It has a mix of paintings, sculptures, and other beautiful things to look at.
Thermae Bath Spa
For some relaxation, head to this modern spa where you can soak in warm water and even enjoy a rooftop pool.
Pulteney Bridge
This is a bridge with shops built right into it! You can shop for souvenirs and enjoy views of the River Avon.
Assembly Rooms
These grand rooms were where people used to gather for dances and concerts. They're really fancy and give you a feel of what high society was like back in the day.
The Circus
Another spot with impressive architecture, The Circus is a circle of historic houses that's worth a visit.
Kennet and Avon Canal
For a peaceful walk, head to this canal. You can even rent a bike or a canoe for a little adventure.
Sydney Gardens
One of the oldest public gardens in England, it's a great place to take a leisurely stroll and enjoy some greenery.
Sally Lunn's Historic Eating House
While not a traditional "sight," this is one of the oldest houses in Bath and they serve a famous local bun. It's a tasty way to step back in time!