Tea Time Treasures: The Story of Scones in Royal England
By Veena Chawla, Blue Badge Guide and retired University Lecturer (last updated November 2023)
Greetings, dear readers, and welcome to a delightful exploration of one of Britain's beloved tea-time treasures – scones! In this journey through time and taste, we shall uncover the story behind these delectable treats and their special place in Royal England. So, grab a cuppa and a scone (or two) as we embark on this whimsical, crumbly adventure.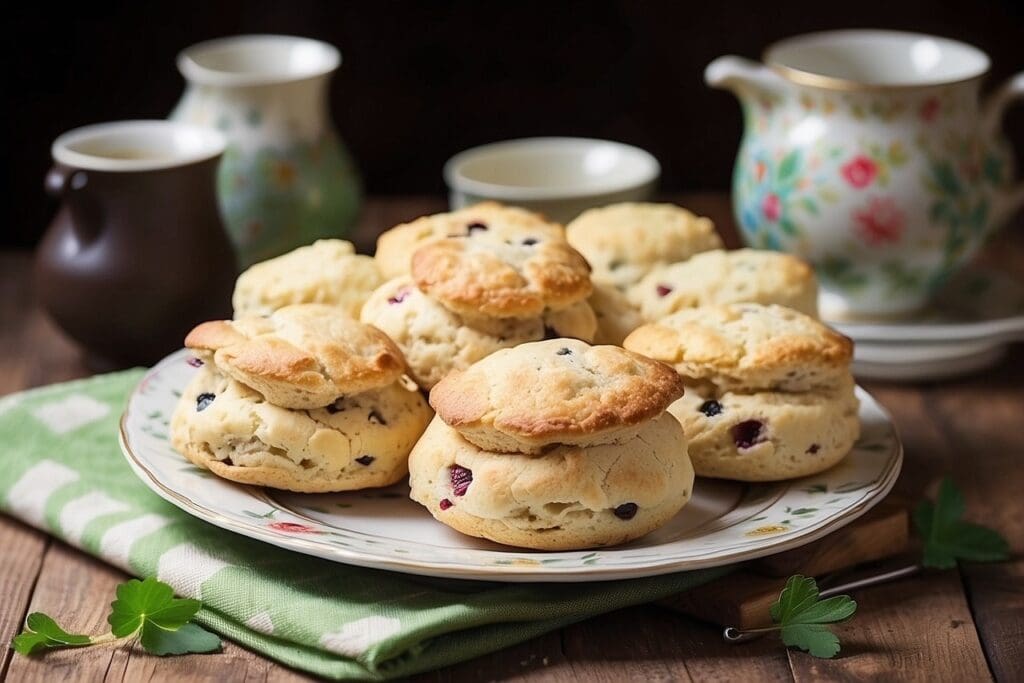 Scone Origins: A Recipe for Debate
Ah, the scone, that lovely pastry, flaky and tender. But where did it come from? The origins of the scone are as mysterious as the filling of a freshly baked one. There are several delightful theories, each more charming than the last:
A Wee Bit Scottish:

Some say scones have their roots in Scotland. The term "scone" is thought to be derived from the Scottish term "scon" or "skon," meaning a flat, round cake. Whether this is where they truly originated or not, Scotland has certainly embraced them with gusto.
A Stone's Throw Away in Ireland:

Our Irish friends also lay claim to the scone's heritage. The Irish scone, often slightly sweeter than its British cousin, is a staple at tea time. It's a debate we may never settle, but let's give credit where it's due – both Scotland and Ireland have mastered the art of scone-making.
English Nobility:

Others contend that scones have been a part of English teatime for centuries. Some trace their history to the 16th century, where they made their debut at English courts. Queen Elizabeth I herself was rumoured to have had a soft spot for them, indulging in these treats with clotted cream and jam. If true, we certainly owe Her Majesty a debt of gratitude for her taste in pastries!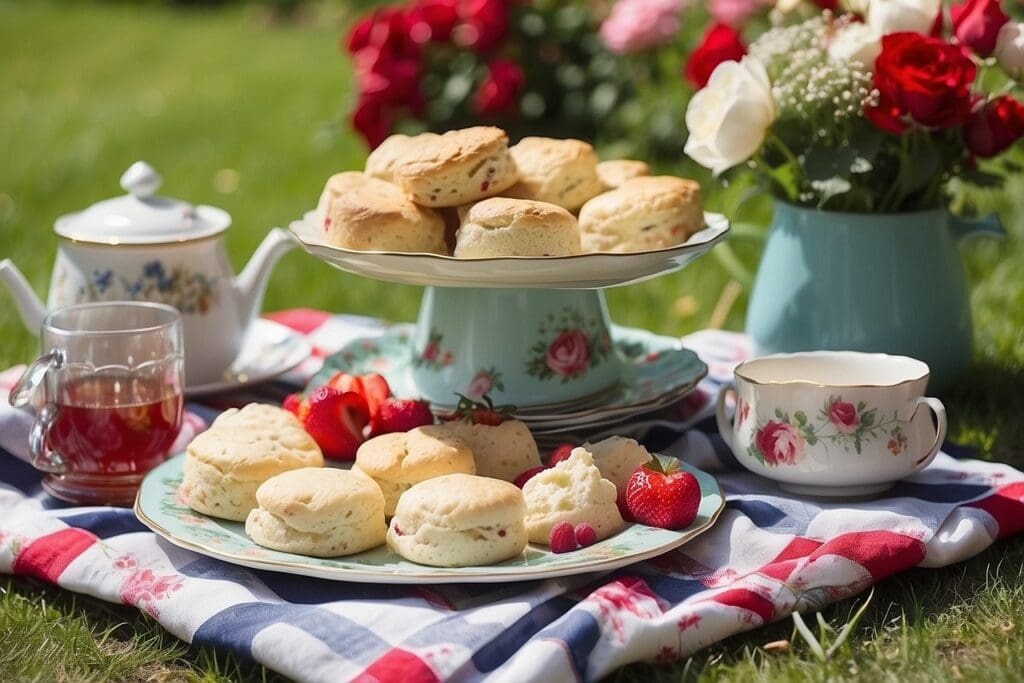 A Scone for Every Occasion
Now that we've pondered the origins, let's delve into the delightful world of scones in Royal England. These versatile pastries have found their way into every nook and cranny of royal life:
Garden Parties: A Royal Tradition
What's a garden party without scones? The British royal family knows how to throw a splendid garden gathering, complete with scones, clotted cream, and strawberry jam. These events offer a delightful blend of elegance and informality, where scones are enjoyed amidst the blooming beauty of palace gardens.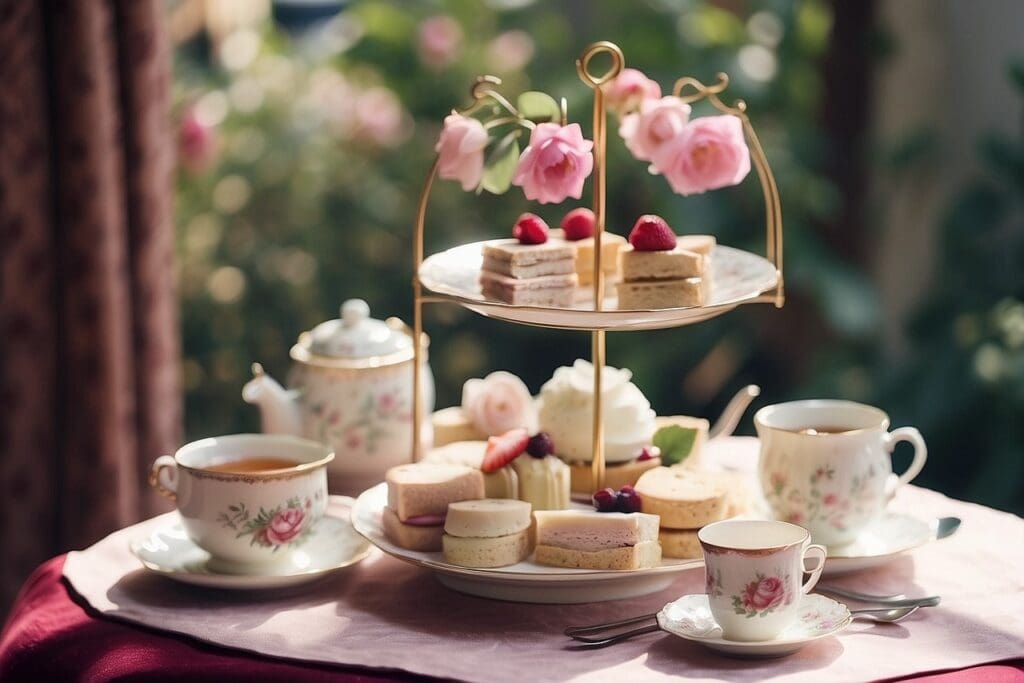 Afternoon Tea: A Regal Affair
The quintessential afternoon tea is another stage where scones shine. The practice of afternoon tea is said to have been popularised by Anna, the Duchess of Bedford, in the early 19th century. Scones quickly became an essential component of this charming tradition. Picture a tiered stand laden with finger sandwiches, scones, and dainty pastries – the stuff of royal dreams!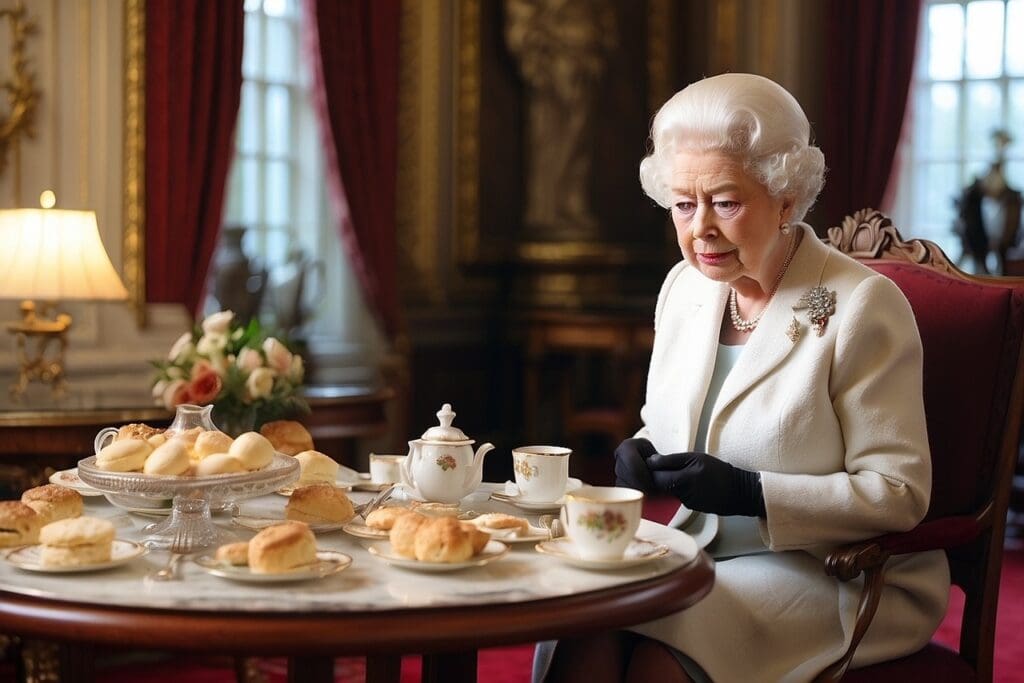 Royal Retreats: Scones at Balmoral
When it comes to royal retreats, the Queen's Balmoral Castle in Scotland is a haven of relaxation. Here, scones have been known to grace the tea tables, providing a warm and welcoming treat for Her Majesty and her guests amidst the rugged Scottish landscape.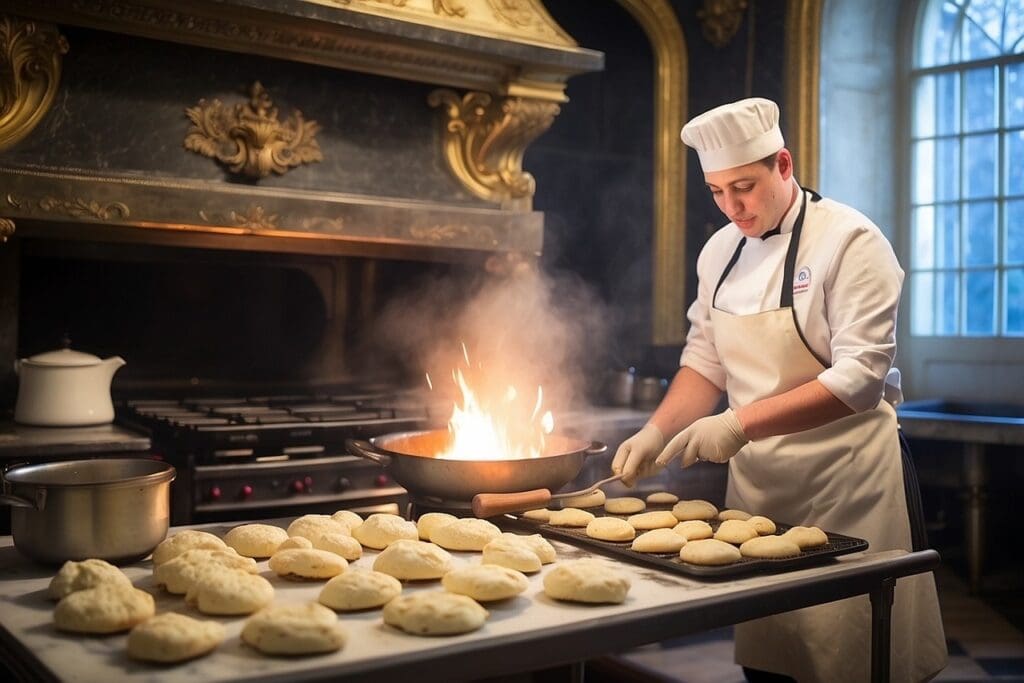 Palace Bakers: Crafting Scone Perfection
Within the palace walls, dedicated bakers ensure that scones are baked to perfection. The royal pastry chefs, with their time-honoured recipes and meticulous techniques, turn out scones fit for kings and queens.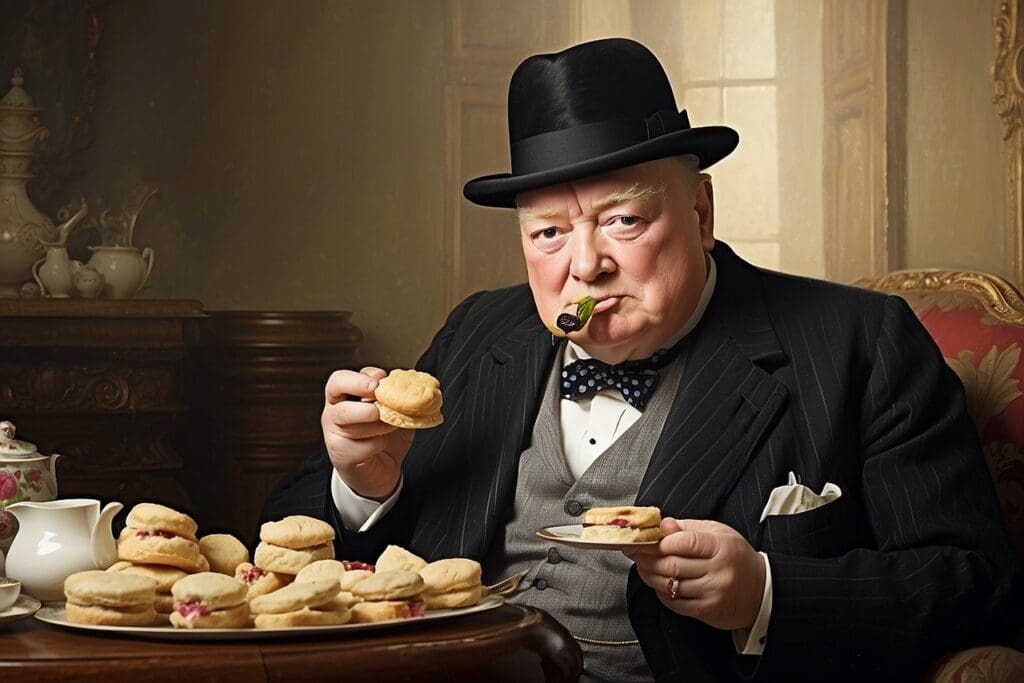 Famous Scone Lovers
Intriguingly, scones have also made their mark on some famous figures in history:
Winston Churchill: Scone Devotee
Even the great Winston Churchill was said to be a scone aficionado. It's reported that he would savour scones with gusto during wartime meetings, a reminder that even in the gravest moments, a scone can provide a bit of comfort.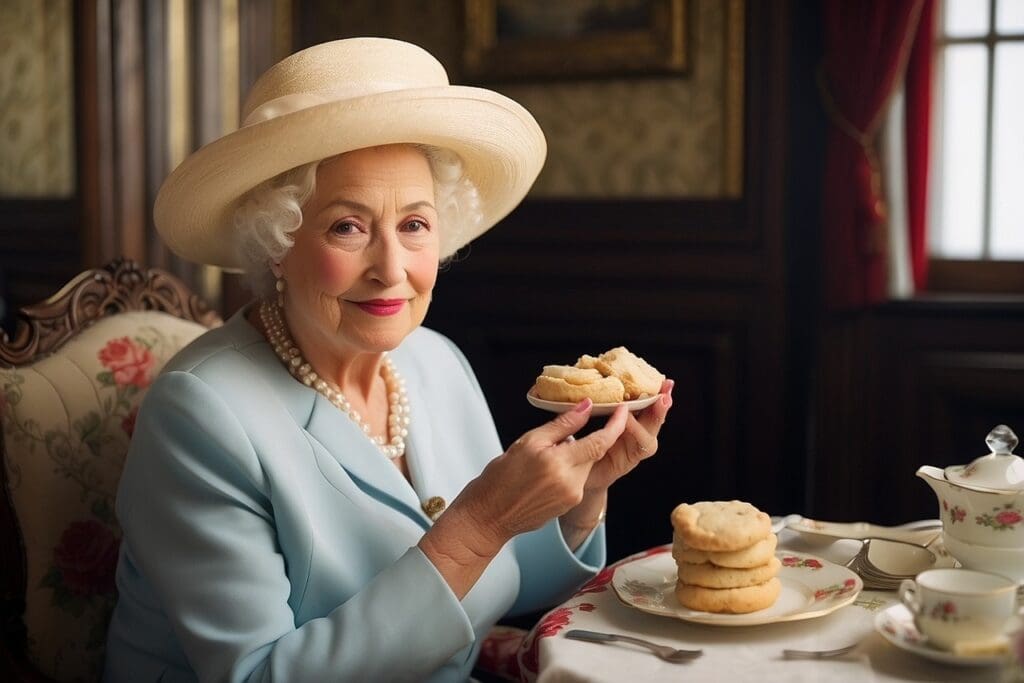 The Queen Mother: A Sweet Tooth for Scones
The late Queen Mother, known for her warm and charming personality, had a sweet tooth for scones. Her love for these pastries was well-documented, and she often enjoyed them with clotted cream and jam.
The Royal Family: Scones through Generations
Scones are a family affair in the royal household. Generations of royals, from Queen Victoria to the youngest members of the family, have been seen savouring scones at various royal functions.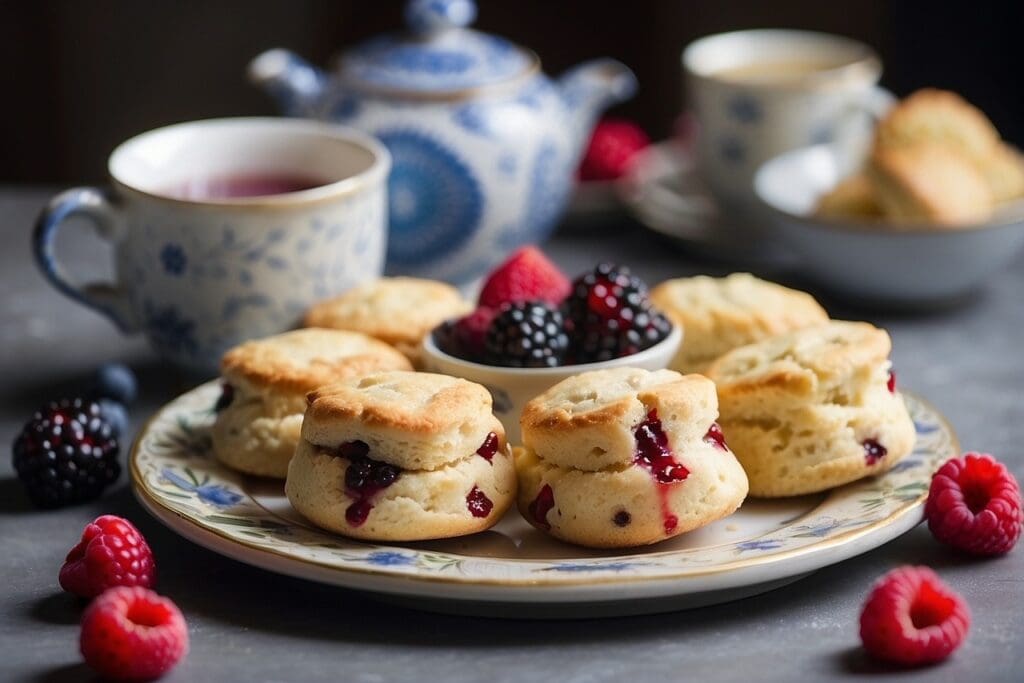 Baking the Perfect Scone
Now, you may be wondering, how does one bake the perfect scone fit for royalty? While the royal chefs have their secrets, here's a simple recipe to get you started:
Ingredients:
– 2 cups all-purpose flour
– 1/4 cup granulated sugar
– 1 tablespoon baking powder
– 1/2 teaspoon salt
– 1/2 cup unsalted butter, cold and cubed
– 2/3 cup buttermilk
– 1 large egg
– 1 teaspoon pure vanilla extract
– 1/2 cup currants or raisins (optional)
– 1 tablespoon milk (for brushing)
Instructions:
Preheat your oven to 425°F (220°C) and line a baking sheet with parchment paper.
In a large bowl, whisk together the flour, sugar, baking powder, and salt.
Add the cold, cubed butter to the dry ingredients and work it in until the mixture resembles coarse crumbs.
In a separate bowl, whisk together the buttermilk, egg, and vanilla extract.
Pour the wet mixture into the dry mixture and stir until just combined.
Turn the dough out onto a lightly floured surface, knead it gently, and pat it into a 1-inch thick circle.
Use a round biscuit cutter to cut out scones and place them on the prepared
About the Author: Veena Chawla, Blue Badge Guide, and Retired University Lecturer
Nairobi Kenya born and a London childhood, Veena's extensive travels throughout the UK and Europe have shaped her rich experiences. Alongside her teaching career in English Literature and  English Language to students from all over the world, Veena has also worked as a London Blue Guide for over 20 years. Her interests are studying, History, Literature, and the Theatre. She loves visiting  Museums and travelling.